- SFD Green Campus Award
- SFD Green team Award
- Students for Development Ambassador Award
Students for Development Awards 2018 terms and conditions

In 2018, there are 3 categories to the Students for Development Awards
In order to submit a nomination for the Students for Development Awards Campus must be located in Namma Bengaluru

All Entrants will need the permission of the Head of the Institutions in order to nominate the Intuition for an award.

Entrants may nominate any Team, Students groups, change maker, change agents working together at  Namma Bengaluru for students for Development Ambassador Award and Green team award

Entries musts be submitted on the entry form supplied but supplementary material can be provided

Responsibility is not accepted for entries lost, damaged or delayed in the post or for any failure of the website

The deadline for receiving all entries is 5pm Thursday 25th Oct 2018. Any entries received after this deadline will not be considered

Only entries that are complete, legible and in accordance with all of the entry instructions will be accepted

Winners and runners up will be notified no later than the 30th Oct 2018. Where SFD is not able to contact the winner or runners up after reasonable attempts to do so with the contact details provided in the Entry, then it reserves the right to select alternative winners or runners up as necessary

Winners will be announced publicly at Idea Conclave for Better Bengaluru- 2018 0n 3rd Nov 2018

By accepting the nomination, the Head of intuitions is agreeing to and accepting to be bound by these terms and conditions and confirming that, should the Intuition be selected as a winner,

The jury Panel' decision will be final and SFD will not enter into any correspondence or communication in relation to the judging. A list of judges which includes at least one independent judge is available on request

SFD reserves the right to amend or reduce the number of awards given at any time should the required standard not be met
1. Host a campus visit for members of SFD Jury Panel
2. Encourage students to present ideas for Swacch Campus – Swacch Bengaluru at Idea conclave for Better Bengaluru – 2018 SFD Green Campus award
The Green-Campus awards based on the successful Eco-Campus /Green-Institutions provides a means to foster environmental awareness in institutions in a way that links to everyday activities and study. The awards are based on the Eco-Management and sustainable practices in and around the campus.
This category will recognize those institutions that have reached milestone on their sustainability journey, which have achieved significant achievements in related matter.
Students of the respective institutions to be involved in social responsibility, environmental performance and sustainable activities will add upon the award-winning chances. SFD Green team Award
The SFD Green Team Award rewards teams that have recognised the importance of working as a team to deliver environmental improvements. A green team can be within an organisation or between organisations. We'd like you to describe the role pupil teams play in planning and delivering creative environmental and sustainability projects in Campus. We'll be looking for evidence of genuine team working, and how the team engages the whole Campus and the wider community. We'd like to hear what difference pupils feel they've made to the environment and what are the initiative have been setup.
This award can be applied by any student initiated organisations (public and private sector) or collaboration between different organisations to achieve efficiencies. Students for Development
Ambassador award
The Students for Development Ambassador award rewards an individual who have recognised the importance of working towards sustainability and delivering environmental improvements towards Namma Bengaluru. Describe the role of initiator play in planning and delivering creative environmental and sustainability projects in and around Campus.
Nominate your Campus for Students for Development award
SFD has launched City wide search to find inspirational Campus putting environmental issues at the heart of their curriculum.
"THIS YEAR WE'RE DELIGHTED TO BE TEAMING UP WITH M S RAMAIAH COLLEGE OF ARTS, SCIENCE AND COMMERCE  BENGALURU TO RECOGNISE THE PASSIONATE INSTITUTION  AND YOUNG TEAM WORKING TOWARDS SUSTAINABILITY. THERE ARE SOME REAL STARS OUT THERE AND WE CAN'T WAIT TO DISCOVER THEM!" Namma Bengaluru, the dream destination for many across globe who come with lots of hope of leading a quality life and to live of their own liking. Bengaluru is symbolized as the engine of economic growth and shares a space with social, cultural and economic experience for ages for its culture and development. The people migrated to Bengaluru are often absurd to the city and due to this Namma Bengaluru has renowned by many names such as garden city, silicon city, lake city and this are major roles which contributed in positioning India in global domain. As due to rapid unplanned urbanization and growth in population and more dependency
in technical usage has built up more pressure on the availability of natural resources and infrastructure which have a major impact on living conditions and quality of life which is a serious threat of city fading its glory and the aura of 'garden city'.
Being a Bengalurean we need to bring out the solution for the profound social instability, critical infrastructure, potential water crises and potential for devastating spread of diseases, hence we need to design and get back the green Bengaluru of the future
Hence by achieving sustainability in urban development of land and resources, improved mobility, economic dynamism, higher environmental quality, safety, security, accesses to urban services and social cohesion.
Idea Conclave for Better Bengaluru, Students for Development hits back to drive more youth in the path of recreating the lost lore of Namma Bengaluru.
Novel ideas to come up with, SFD has intended to bring out impactful memoirs of people, who has involved environment as an integral part of their life-style; and recognise their work with awards.

Why IDEA CONCLAVE 2018?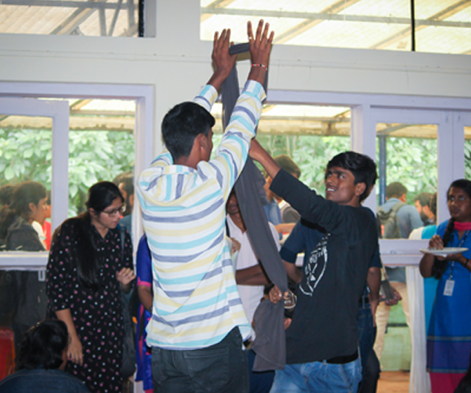 M S Ramaiah College of Arts, Science and Commerce
Ramaiah College of Arts, Science and Commerce was established in 1994 by our founder Late Dr. M S Ramaiah offering both under graduate and post graduate degrees offered by Bangalore University in Arts, Science and Commerce and Management streams. The college is approved by AICTE, New Delhi, recognized by the Government of Karnataka. The college is also recognized by UGC under 2(f) and 12 B of UGC act 1956, re-accredited "A" grade by NAAC. Our college is a unique learning institution which has
played a pioneering role in providing academic excellence. We constantly endeavour to focus on innovative teaching practices aimed at helping and developing our students into professionals of the future. The college offers Undergraduate courses in Science streams, Arts, Commerce, Computer Applications and Management studies. It also offers Postgraduate programmes like M.Sc. in Biochemistry, Chemistry, Biotechnology, Microbiology, MBA and MCOM. The college has conducted Green audit. The college is involved in various ongoing projects in the fields of science and technology at national and international levels.